Don't miss the presentation: "Modular Homes: the sustainable homes of the future?", by Adam Farrow, General Manager of Built Smart Modular Homes.
Built Smart's factory is at nearby Lisarow. The presentation will include an introduction to modular homes, the advantages of modular homes, and how to work with a modular home company to meet your requirements and the Narara Ecovillage building standards.
Built Smart Modular Homes are the lead sponsor of the 2016 Narara Ecoburbia festival- their support is much appreciated.
Two expert representatives from the NEV Building Standards Group, John Shiel and Mike Belfield, will also be present to answer any questions how modular homes score on the Building Standards rating scheme.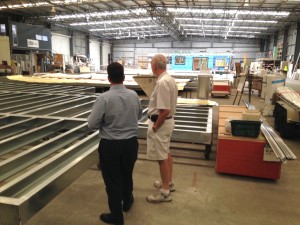 The monthly presentations follow the Narara Ecovillage Open Day (from 1.30m-4 p.m.). The presentations are open to nyone. Admission is free to members of the Network (NELN-Narara Eco Living Network) and of the village (NEV-Narara Ecovillage Co-operative), and to anyone who has paid to attend the Open Day afternoon (1.30- 4 pm). The cost for anyone else is $10 individual or $20 family.
The presentation will be followed by Community Dinner in the Members Lounge at 6 pm. – bring something to share, e.g. casserole, salad, fruit and nuts, cheese and bread, soup, a dessert etc. and your favourite drink if you have one (organic juice? Chateau Narara Shiraz?).