Saturday 24 September 2016
The monthly Open Day (tours, tea and talk) runs from 1.30 to 4 pm.  At 4.30 p.m. the monthly Network talk will be given by Lyndall Parris, on Ecovillages and Co-housing: Recent trip to Europe and North America.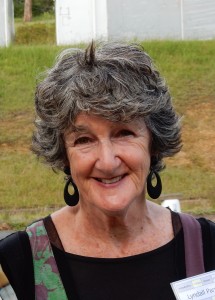 You will remember her- Lyndall Parris the founder of the Narara Ecovillage – she gave wonderful talk at our fabulous 2016 Ecoburbia Festival.
She has just returned home from some more world travels visiting many ecovillages and co-housing communities , and is going to share her journey and fun with us at the next Narara Eco Living Network talk on September 24 at 4:30pm at the Narara Ecovillage.
Come early (1.30 p.m.) for a tour of the village followed by a slide show and a delicious afternoon tea before Lyndall enthralls us with what is possible for our ecovillage.
The talks and Open Days are free to members of the Narara Ecovillage Co-operative and of the Narara Eco Living Network. You can join the Networkon the day for $20 (individual) or $40 (family), and then attend all Open Days and talks for 12 months at no cost.
If you are not a member of either of these, attendance at any time on the Open Day costs $10 (individual) or $20 (family).