Workshops
Two exciting workshops were held at the 2016 Festival.
Biomimicry: Lessons from Nature for designing community and buildings.
Presented by Jane Toner, architect, sustainability consultant, Australia's first certified Biomimicry Professional and  founder of Biomimicry Swarm Australia.
Slow Clothing: Dressing with Conscience.
Presented by Jane Milburn, an upcycler and natural fibre champion at the cutting edge of the slow clothing movement in Australia and founder of Textile Beat.
---
Jane Toner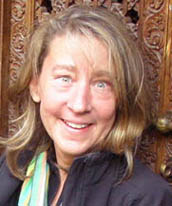 Biomimicry: Lessons from Nature for designing thriving communities and buildings.
Presented by Jane Toner. Jane is an architect, sustainability consultant and Australia's first certified Biomimicry professional. She is also founder of Biomimicry Swarm Australia, through which she encourages and supports the uptake of Biomimicry in Australia through networking events, presentations, and design workshops.
In her Ecoburbia presentation, Jane demonstrated how Biomimicry can be used to meet challenges faced in the design of the built environment and in community organisations (you can see many examples of Biomimicry at http://Biomimicryswarm.org). Following her presentation illustrating what Biomimicry is and how it can be applied, attendees  had the opportunity to engage in exercises exploring the application of the deep patterns of Nature.
Biomimicry.
Jane writes: "Biomimicry is an innovative discipline that brings together engineers, designers, biologists, and entrepreneurs. It's about the challenge of designing by learning from, and working with, Nature.
I am drawn Biomimicry as an example of "extreme sustainability, to the max". We need to be more than sustainable – it is time for us to make good the damage we've done to life's systems.
Our species is clever, but we are relatively young and there are many signs that we have not fully adapted to fit in on our planet. We've never been more connected with each other and the world around us, and yet we've never been so disconnected from Nature.
Biomimicry seeks to reconnect us with Nature. The inspiration for the innovative solutions can be found in Nature – we just need to ask the right questions. The aim is to develop design solutions that are innovative and regenerative. Biomimics ask: "How would Nature solve this challenge?"
We will discu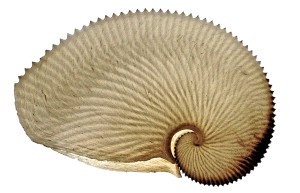 ss things like:
Why is Velcro is an example of Bio-inspiration, not Biomimicry?
What do wind turbines and humpback whales have in common?
Should buildings be more like termite mounds?
What do floating islands have in common with peat bogs?
Is permaculture a good example of Biomimicry?
Biomimicry for designing communities and the built environment.
Imagine if buildings could help cycle carbon, clean air and provide habitat while providing shelter, happiness and meaning to their human inhabitants.
Biomimicry can help to create inform innovative strategies for the built environment. And it encourages systems thinking, where buildings are not i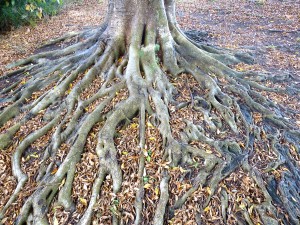 solated elements but contributors to the whole ecosystem.
Janine Benyus, the author of Biomimicry: Innovation Inspired by Nature, and co-founder of Biomimicry 3.8, says our cities should be designed to function like forests, so that they are "restorative, regenerative, sustainable and life giving".
What lessons can we learn from Nature about creating vibrant communities that are as well adapted to their location as the ecosystem in which they reside?
If our cities were to function like forests, what is the role for our suburbs in creating environments that nurture diversity and abundance?
Numbers are limited for this workshop, so don't delay to book your place.
You can book your place now by paying  by Direct Debit- see 'Information and Bookings" above.
Jane Milburn
"Slow Clothing": Dressing with Conscience

You have heard about 'Slow Food' and maybe 'Slow Cities'. So come along and find out about 'Slow Clothing'.
This workshop was presented by Jane Milburn, an agricultural scientist and communications consultant who set up Textile Beat as an innovative enterprise focused on dressing with conscience and story through more thoughtful and ethical use of clothing resources.
Jane is a member of Fashion Revolution Australia.
Jane is at the cutting edge of the slow clothing movement in Australia, after earlier work in journalism and rural communications. Jane focuses on the substance, not just the style, of the clothing we wear every day as protection for our bodies and as a statement about who we are.  Her premise is that clothes do for us on the outside what food does on the inside – nourish, warm, and engage our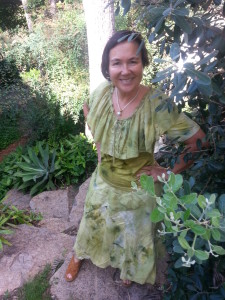 body and soul. In the same way that conscious eaters are sourcing fresh whole food and returning to the kitchen – conscious dressers are seeking to know more about clothing provenance and the making process.
Following graduation from the Australian Rural Leadership Program in 2010, Jane stepped out as a natural-fibre champion – linking the everyday action of dressing to health, wellbeing and sustainability.  In 2014, she engaged in a 365-day slow clothing conversation through the Sew it Again project and this year initiated The Slow Clothing Project with more than 100 different makers sharing their stories through the creation of handmade, local and natural garments. See more at textilebeat.com
At this workshop, Jane shared ideas for extending the life and usefulness of clothing. She outlined the Slow Clothing Manifesto – 10 ways we can reduce our material footprint by modifying our actions and choices. The aim was to inspire change in the way we engage with clothing, for the good of ourselves, society and planet. The goal is to conserve resources, reduce excessive consumption and grow connection. If you loved This Old Thing on ABC2, this workshop was for you. Bring a discarded T-shirt or jeans for repurposing at this workshop. You are also welcome to bring garments from the back of your wardrobe to discuss renovation options.
And below is an example of a very creative re-use of clothing materials by Kathy of Narara!