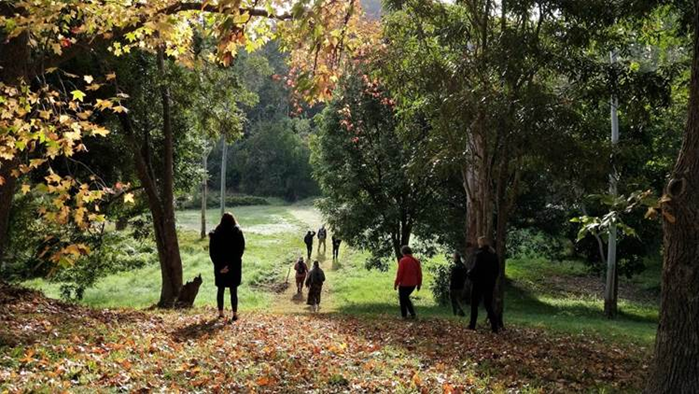 In the last 18 months, and especially since May 2021, NELN, like many organisations, have had to wind back our activities due to the pandemic. One highlight of the year was Sustainable House Day at Narara Ecovillage, held in Sept 2020, which was sparsely but enthusiastically attended, and included guided and self-guided tours, high-calibre presentations online, open permaculture garden, coffee cart and networking opportunities.
---
Highlights of the year include:
Activities
In 2020-21, NELN ran a number of events and activities in partnership with Collective Know-How (CKH), Narara Ecovillage's research and education group.
May 2021: Mushrooms workshop (with CKH)
May: Forest Aliveness Day, "Yoga, Birds and Nature"
Feb: Sociocracy in Action: Picture Forming (with CKH)
Jan: Guided birdwalk
Jan 2021: Sociocracy in Action: Decision Making (with CKH)
Nov 2020: Foundations of Sociocracy (with CKH)
Sept: Living with Wildlife at Narara Ecovillage
Sept  Energy Freedom Home Workshop – Save Money on Heating and Cooling (with CKH & Beyond Zero Emissions)
Sept: Guided birdwalk
Sept: Taste of Sociocracy (with CKH)
Sept 2020: Festival: Sustainable House Day at NEV 2020 COVID-style!  (c70 attendees + hundreds online)
Sustainable House Day Tours & Talks

Narara Ecovillage Discovery

Natural building
Sustainable building design
Food growing/permaculture
Collaborative living
Retrofitting Bellbird House
Tiny Houses

Jan-Aug: Sociocracy in Action workshops (with CKH)
Grants
Sustainable House Day at NEV 2020 – to write & publish guide book & purchase AV equipment -Central Coast Council
Damp-proofing the Grafting Shed (heritage grant) -Central Coast Council
Publications
Self-guided tour of Narara Ecovillage
Monthly Network News
---
Membership numbers
at 30 June 2018 – 224
at 30 June 2019 – 208
at 30 June 2020 – 189
at 30 June 2021 – 191
Previous Annual Report 2019-2020
---