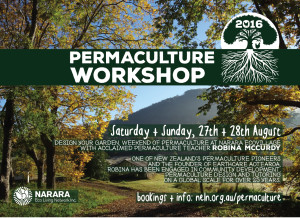 MEET A PERMACULTURE EXPERT.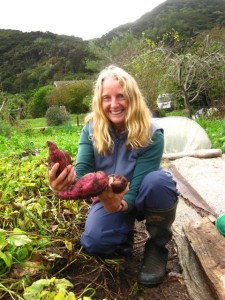 Saturday 27 August and Sunday 28 August . Book your place now for "Design Your Garden", a weekend of Permaculture at Narara Ecovillage, with acclaimed NZ Permaculture teacher Robina McCurdy, founder of Earthcare Education Aotearoa, and one of NZ's permaculture pioneers.
Robina has been engaged in community development, permaculture design and tutoring on a global scale for the past 25 years.
Robina is the co-founder of Tui Land Trust & Community in Golden Bay NZ ,and a pioneer of the S.E.E.D (Schools Environmental Education & Development) programme in South Africa and Brazil.
She has developed a range of environmental education resources and participatory processes for collective decision-making and action – most notably 'Grounding Vision, Empowering Culture', a community facilitation manual, and 'Grow It!', a Home Garden coaching series.
Robina has taught & applied her powerful community-building methods with households, neighborhoods, schools, farms, ecovillages & bioregions, in Aotearoa/New Zealand and many countries overseas.
Program:
Saturday 27 August, 9 a.m. to 5 p.m.

Designing and creating a permaculture garden.
Cost $60 (NELN members $55).
Saturday 27 August, 6pm

. Film showing, 'S.O.S: Save our Seeds' by Robina. This new film (1 hour and 20 minutes) was produced in June this year. Also showing will be the 15 minute documentary, "Hands-on Seed Saving".
Cost (includes hearty soup) $ 15
Sunday 28 August, 9 a.m. to 4 p.m.

Designing  the Narara Ecovillage common gardens.Includes a talk by Robina at

2 pm

. for the NEV Open Day.
Cost: $60 (NELN members $55).
 N.B. NELN members: you need to be up to date with your NELN membership to receive the discount!
Save