2018 Village Open Days.
In 2018 the monthly Open Days have a new format and are called Village Days. As well as the traditional site tours and finding people to answer your questions about the ecovillage project, there is a video presentation, and you can see members in action- whether it is repairing bikes, sharpening tools, digging drainage, selling plants, teaching meditation, taking about bee keeping action or giving our of edible weeds. Each month there will be different activities.
Village Days will be held on the last Saturday of every month, from 1-4pm, but N.B. there may also be extra activities in the mornings . Check this web site or the NEV website http://nararaecovillage.com or find us on Facebook for further details about each month.
Entry is $10 per person or $20 for a family. Entry is free to NELN members.
We hope to see you there!
Information.
These events will be held at the Narara Ecovillage, 25 Research Road, Narara, NSW 2250.
You do not need to register to attend the Open day or the Monthly Network talk. Cost to attend any part of the Open Day :individual $10, family $20 (Includes option to hear Monthly NELN Talk).
All parts of the Open Days are free to members of NELN and NEV, and those who have paid to attend the Open Day.
NB Membership of NELNallows you to attend all Open Days and Monthly NELN Talk for 12 months, and provides discounts on special workshops and tours. Annual membership costs individual $20, family $40. Join Now!
March 31 Village Open day.
Know More about Powerful Owls on the Central Coast!
Have you heard night-time hooting in your area? It may be a Powerful Owl, a spectacular and seriously large Australian owl, that is also now a threatened species. The Central Coast of NSW is privileged to be home to a number of these wonderful birds.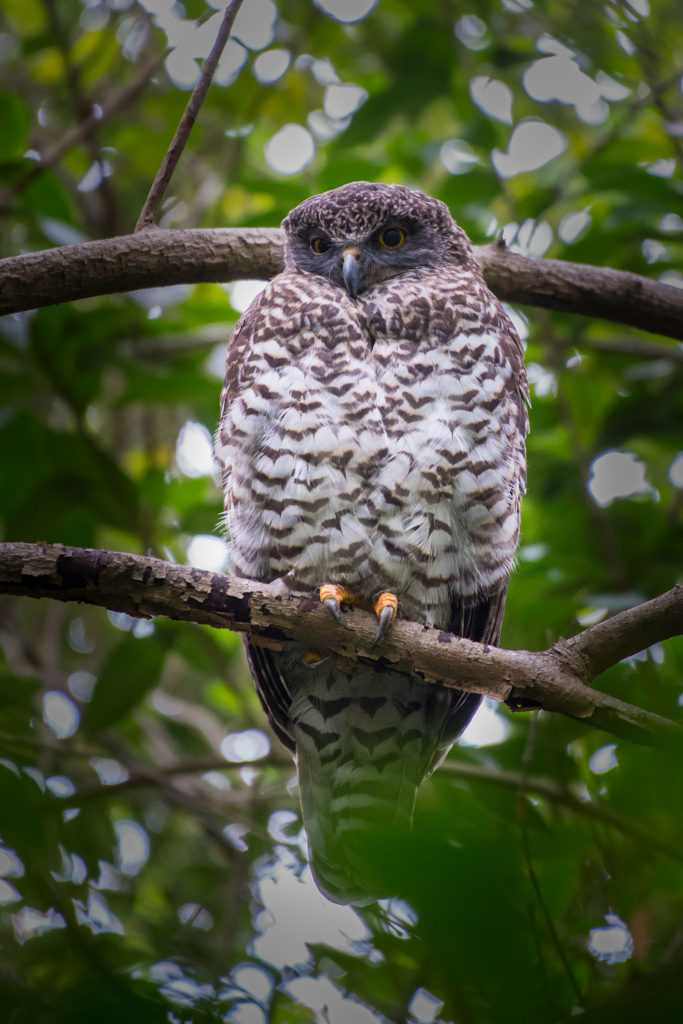 Photo courtesy of Stephen Davey.
Dr. Beth Mott, Coordinator of the Powerful Owol project, will give a talk about Powerful Owls at the Narara Ecovillage Visitor Centre at 11 a.m. to 12 p.m. n Saturday March 31 2018 (Easter Saturday). (PLEASE NOTE THAT THIS TALK WAS PREVIOUSLY ADVERTISED AS AT 3 p.m. THIS TIME HAS NOW BEEN CHANGED).
We invite you to "Come along and hear what you can do to help our Powerful Owls stay with us". Beth will also talk about how to help other Australian owls.
The Powerful Owl project is an exciting example of 'Citizen Science', which has involved community members all over S.E. Australia in researching and learning how to protect this impressive and seriously large species (see (http://www.birdlife.org.au/projects/powerful-owl-project).  This 7-year project is about to end, so this is a special opportunity to hear about it from an expert.
Dr. Beth Mott of Birdlife Australia has been managing the project for 14 months. Beth holds a Ph.D. in Conservation Biology and is particularly interested in community-level responses to disturbed environments. Beth has spent the last 20 years working with faunal communities in the desert uplands of Queensland, Wet Tropics rainforests and sub-tropical coastal forests of the New South Wales Mid North coast. She says: "While I always thought I would end up either marrying or becoming David Attenborough, I find educating people about conservation almost as rewarding".
The talk is open to the public: admission costs $10 per head or $20 for a family, and is free to members of the Narara Eco Living Network. Admission is payable at the door, and it is not necessary to book beforehand. The talk precedes the Ecovillage "Open Village Day", from 1 to 4 pm. These afternoon activities include small-group guided tours of the Ecovillage site, light refreshments, and a chance to join in various more and Ecovillage activities including hands-on construction of the outdoor kitchen.
Note: your admission to the morning Powerful Owl talk also gives you admission  all the afternoon activities
Bring your own picnic lunch if you want to stay for the afternoon- we regret that we are not yet organised enough to provide lunches!
Save
Save
Save
Save
Save
Save