'Saltwater Fella': John Moriarty Talk
Aboriginal leader, activist and artist founder of Balarinji Designs to speak at Narara Ecovillage
NARARA, NSW – One of Australia's most respected aboriginal community leaders will share his remarkable story at a public talk hosted by Narara Eco Living Network. Removed from his home at the age of four, John Moriarty has many extraordinary achievements to his name – as a sportsperson, political activist and champion of aboriginal art.
"The story of this humble man's life is an inspiration to all of us who seek to create a better, fairer society," said Lyndall Parris, founder of Narara Ecovillage. "We too are trying to pioneer and model a transition to a fairer, more inclusive, more sustainable way of living and John Moriarty is a living manifestation of this.
"John's story shows us that progress requires courage, determination and humility. We're thrilled, as a place of ideas, discussions and education, to be able to offer the rare privilege for people to hear John tell his story in person at the ecovillage," she said.
John Kundereri Moriarty AM is chair and co-founder of Balarinji, a leading design and strategy consultancy he established with Ros Moriarty in 1983.  In 1994, Qantas famously commissioned Balarinji to decorate a Boeing 747, resulting in the creation of one of the world's largest pieces of modern art.
.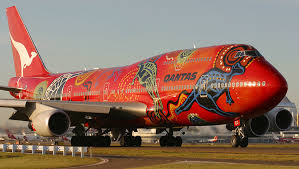 Born at Borroloola in the Gulf of Carpentaria in the Northern Territory, John was taken from his mother at the age of four and brought up in boys' homes in Sydney and Adelaide under the government's assimilation policy. This motivated a lifelong commitment to advocacy for Aboriginal equality, reconciliation and cultural preservation.
Today he is a full member of the Yanyuwa people of his birthplace, belonging ceremonially to the Rainbow Snake and Kangaroo Dreaming.
John was a successful soccer player, playing for Juventus Australia, until a serious injury ended his sporting career. He went on to hold senior and executive-level positions in Departments of Aboriginal Affairs for both state and federal governments.
John's autobiography, 'Saltwater Fella', was published by Penguin Books in 2000, and was Highly Commended in the Australian Human Rights Commission Literary Awards.
As Balarinji founders, John and Ros Moriarty were inducted into the Design Institute of Australia's Hall of Fame in 2014, recognising their unparalleled work in building bridges of understanding and best practice participation between Indigenous communities, businesses and the wider community.
'Aboriginal Art, Community and Business' – a talk by John Moriarty
When: 4.30 to 5.30pm, Saturday 28 October
Where: Narara Ecovillage, 25 Research Road, Narara NSW 2250
Cost: $10 for individuals or $20 for families (also allows entry to Narara Ecovillage Open Day activities from 1.30pm). Free for members of Narara Eco Living Network or Narara Ecovillage Co-operative
For more information, interviews and images, please contact:
Rachel Harris  / 0498 140 433 / media@nararaecovillage.com
About Narara Eco Living Network
Narara Eco Living Network is a not-for-profit association supporting people and groups interested in learning to live sustainably. 'Eco Living' is about making choices and taking action to enable harmonious and sustainable living for ourselves, each other and generations to come. For more information on the network, including monthly talks at Narara Ecovillage open days and other events, or to sign up to the monthly newsletter, visit: www.neln.org.au.