September 2020 Network News
Humidity, Ventilation, Dust and Mould – Healthy Homes #4
In this six-part series, Narara Ecovillage member Mikala Dind (a building biologist) shares her knowledge about what makes houses healthy or unhealthy. While this article is about existing homes, the information will definitely assist anyone seeking to build a home.
As I mentioned in the last article, there is a relationship between humidity, dust and mould. Mould, a type of fungus, is everywhere – as it should be. It is the great decomposer. Without mould, every tree that has ever fallen down would still be on the ground, which would make life interesting.
Mould feeds on just about anything (wood, fabric, gyprock, even dust). However, what allows mould to grow is humidity. Without the right amount of humidity, mould goes into hibernation. Seeing as the presence of mould and the sources of food for it are everywhere, the main lever we have to manage the growth of mould is humidity. Relative humidity to be more precise.
Relative Humidity
Where humidity is the amount of water vapour present in the air at any time, relative humidity is the ratio between the amount of water vapour in the air and the amount of water vapour required to saturate the air. Air molecules can only hold a certain amount of water vapour. When air has reached its limit in how much water vapour it can hold (think clouds), it is said to be saturated, or to have reached dew point (think rain). The saturation point is affected by air pressure and temperature, so it will not always stay the same.
The relationship between humidity, temperature and condensation is a science subject in itself – ask any professional in the air conditioning industry. However, I just want to give some broad brush stroke concepts that will help you maintain a healthy home environment.
http://www.santa-fe-products.com/ashrae-chart/
As you can see from the graph above, once relative humidity gets to 60%, dust mites will really start to proliferate. If the relative humidity reaches 70% or above, then mould growth kicks in. The ideal range for internal humidity is 50-55%. (Below that, the air is too dry and can lead to dry eyes, scratchy throats and respiratory irritation).
How can you find out what the relative humidity is in your home? Just purchase a handful of relatively cheap hygrometers on-line (they only need to give you a rough guide). Put one outside, one in each occupied bedroom and one in each of the kitchen and lounge rooms (and any other room that gets used a lot, eg study). That way you will start to get a feel for how the humidity levels change throughout your home depending on the weather, the time of day/year, and what activities are occurring in each room.
I've mentioned in previous articles how the design of the home, and the site on which it sits, can lead to increased internal humidity. However, there are also many sources of humidity within the home, such as boiling water in a kettle, cooking on the stovetop, using a dryer, drying clothes inside on a clothes rack and so on. One of the biggest sources is the shower/bath, so it is essential to use a good exhaust fan (which should run for around half an hour after a shower unless you can open a window) and keep the bathroom door shut.
Of course, that's not to forget that any water damage to the building (eg from a leaking water pipe) is not only a major source of increased humidity, but also a guaranteed cause of mould growth – particularly the more toxic varieties (eg stachybotrys, aspergillus).
So, given the seemingly endless sources of humidity (from inside and outside the home), you may be wondering how on earth one can possibly maintain an optimal level of internal humidity. The easiest and cheapest way is simply through ventilation.
Ventilation
While it is often said that mould likes to grow in the dark, it's more accurate to say that, unless there is a high level of moisture (eg due to a leak), mould will grow wherever there is no air movement (eg behind a bedhead).
By keeping a window cracked open just a little at night, you allow the warm, moist air exhaled by the occupants of a bedroom to be vented out, rather than becoming trapped in the room (leading to mould growth on the ceiling or upper edges of walls).
While this is going off topic just a tad, cross ventilation (where air is brought in through one side of the house and escapes out the other side of the house) is vitally important for a healthy home as it allows for stale air to be replaced by fresh air. Besides mould spores, the air inside a home can contain numerous pollutants such as off-gassing toxins (eg from new carpet), carbon monoxide (eg from an un-flued gas heater), and even excess carbon dioxide (if there are too many people in a room).
For this reason, ventilation, whether manual (opening a window) or mechanical (eg ducted ventilation) is essential even if the external humidity is high (eg it's raining). You still need fresh air. So, you may ask, how then do you get the relative humidity to 55% if you've just ventilated with air that has, for example, 70% humidity?
Dehumidification
Purchasing a dehumidifier will be one of the best investments you can make for your home.  It is the easiest way to manage humidity levels.  A dehumidifier captures the moisture in the air and traps it in a tank that you either empty when full or have the unit plumbed into a drain. 
There are many good dehumidifiers on the market (some around $400). It is best to do a little research to find out whether a condensing or dessicant dehumidifier is best for your situation, as well as what size you will need for the area you are wanting to manage.
Dust
As I mentioned earlier mould feeds on dust, and so the better we manage the dust load in our home, the less food will be available for mould.  Carpets are not only a dust-trap, but can also harbour dust mites, and so must be vacuumed regularly (and steam/dry cleaned every few years) in order to mitigate this potential. 
However, even floorboards need regular vacuuming or a wipe with a slightly damp cloth (as sweeping with a standard broom causes dust to swirl around in the air before settling back down on the floor – which is okay in the shed, but not in the house).
Clutter makes keeping surfaces dust-free difficult, so it is a good idea to minimise items on a surface so that regular cleaning is as easy as possible.
In this article I have touched on a few issues that impact internal air quality. In the next article I will go into more detail about these issues and how to mitigate them.
Of course, each home will have its individual needs/requirements which I can't cover through articles. However, I am available to do a home audit to provide a detailed report and plan (contact: 0424 586 610).
---
Village living: intangible benefits for kids
-Deb Mohr
I love that my two kids enjoy lots of free play, climb trees, help with the weeding and the community chooks and have access to so much more land than we could afford to maintain ourselves. This was definitely one of the draw cards for us, when choosing to move our family to Narara Ecovillage. But some of the greatest benefits are intangible.
I recently read Steve Biddulph's book, Raising Girls in the Twenty-first Century, and this piece rang so true for me:
"In the last 50 years, girls have often been reduced to just the nuclear family and their school classmates, for their social options. This is quite unnatural. Girls also need friends who are young women, half a generation older, savvy and yet youthful enough to relate to them with understanding. They need older women in their sixties and seventies, grandmother figures who offer a grounded, wise and comforting presence. They also need smaller or younger children who look up to them, get cuddles from them and give them a taste of the joys of nurturing and being depended on, to relieve them of self-obsession and too much inwardness. They need male friends who have no partnering or sexual intent towards them, so they can expand out of those anxieties and see themselves as more completely human."
My daughter, moving into her tween years, loves hanging out with and helping some of the older generation at the village. She has uncomplicated friendships with some of the boys in the village. Almost like brothers, but not. And enjoys working with some of the kids who are a couple of years older than her, giving her the inspiration and encouragement to step outside her comfort zone.
I feel so much joy and thankfulness that she has this support network around her as she embarks on this challenging chapter of her life.
---
Events & Opportunities at the Village

Guided Bird Walk: Introduction to the Birds of the Narara Ecovillage – Sept. 19
About: Do you need to restore yourself with a "top up" of Nature? It's Spring and the summer-breeding birds are about to arrive at Narara. Many of the resident birds are already breeding.
Come and learn about the fascinating birds of the Narara Ecovillage, identify the most common species and learn to recognise their varied calls.
Bookings essential:  You MUST reserve your place by emailing Richard at: madaboutdirt@iinet.net.au. Numbers are strictly limited.
Bring: your own water bottle, hat, sunscreen, insect repellent, strong footwear, long trousers. Highly recommended: binoculars and / or camera with telephoto lens.
Average level of fitness and mobility required- some rough ground. Not suitable for small children. Finish the morning with an early lunch at the Ecovillage Coffee Cart (own expense).
Cost $35 each, $25 for members of Narara Eco Living Network and Narara Ecovillage Co-operative. 
All income after costs goes to NEV and Narara Eco Living Network. 
Please bring cash on the day.
COVID restrictions and COVID safe plan in place. Numbers limited (12). 
---
Save $ on Heating & Cooling: "Energy Freedom" Home Workshop- Sept 19
Affordable Comfort for all
About
In this very informative workshop you will learn energy-saving tricks to keep your house warm, even if you are renting. House types covered include cavity brick, brick veneer and weatherboard. Case studies will be presented, including Narara Ecovillage's "Dorothy", with an optional guided tour following the workshop. Attendees may also order a pdf of the Energy Freedom Home book worth $40 (Free, or donation).
About BZE
Beyond Zero Emissions is a climate change think tank, showing through independent research and innovative solutions how Australia can reach beyond zero emissions.
For more information, contact Liz: learning@nararaecovillage.com
---
September Open Day & Sustainable House Day – Sept 20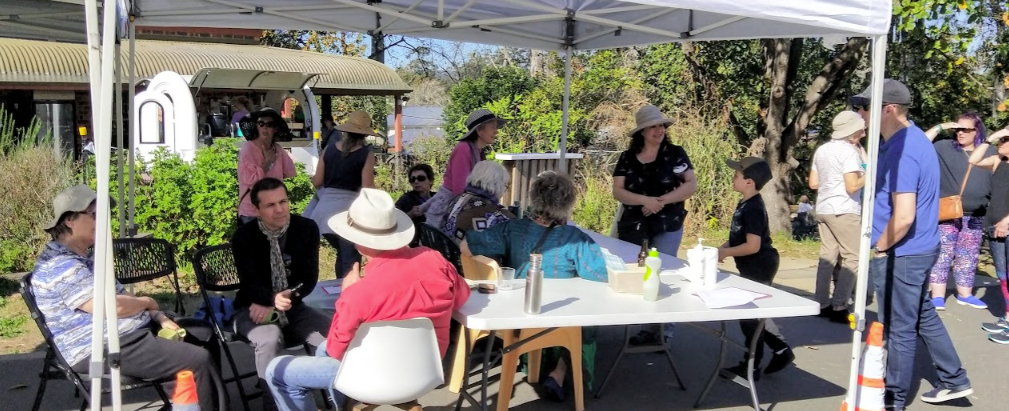 Visit our beautiful site and learn about sustainable housing & permaculture.
Enjoy a perfect introduction to Narara Ecovillage through:
Guided walking tours
Drop-in Open Garden: Scribbly Gum permaculture garden and plants stall
Sustainable Housing talks livestreamed from Renew in the Visitor Centre (Please note: limit of 20 people)
Self-guided tours
Coffee shop: meals, snacks and drinks for sale
Conversations

Many village members and homeowners will be on hand to talk about the village and our sustainable homes. Look for the "Ask me" buttons, or just ask anyway! And please don't forget your mask.
If this will be your first visit to Narara Ecovillage
Come prepared for all weather and walking on a rural property. Kids are always welcome. However please leave your pets at home.
---
A Taste of Sociocracy – Sept 25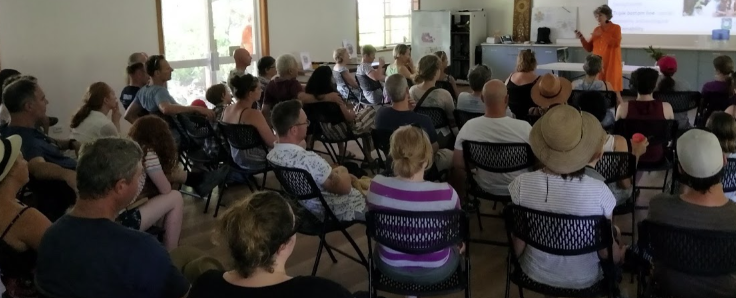 How do you get your family, business team or, in our case, 180 people to make decisions, resolve conflicts and feel that they have been heard?
The Narara Ecovillage is using Sociocracy. This is a decision-making and governance system that:
Is inclusive, transparent and equitable, including all voices
Promotes better use of resources, and coordination of activities
Leads to care, respect and cooperation
Reviews decisions to determine their ongoing usefulness.
This system has relevance for communities, businesses, non-profits, families and more.
You are warmly invited to have a 'taste' of this methodology in a presentation by village founder Lyndall Parris.
The Narara Ecovillage is going from strength to strength, year by year – and it is wonderful to witness their journey. They are definitely at the forefront of Sociocracy in practice in Australia – Gina Price, Australia's leading Sociocratic Consultant.
When: Fri Sept 25, 7-9pm
Where:  *At the Village & *Online 
Cost: *At the Village $15/10; *Online FREE
Bookings essential:  All tickets here
Program
7 pm: Welcome (drinks and nibbles) – for those attending in person
7.30 pm: 'A Taste of Sociocracy' presentation – for those attending in person or via Zoom
9 pm: Home to bed!
Tickets Get your tickets here
---
Please note
The in person event is restricted to 18 participants maximum due to current COVID-19 social distancing restrictions. Please do not attend this event if you have any COVID-19 symptoms, or if you have recently been in close contact with anyone with COVID-19 symptoms. Please bring a mask.
Collection and use of personal information is subject to our Privacy Policy available on our website http://nararaecovillage.com/privacy/
Workshops organised by Collective Know-How (education group), Narara Ecovillage.
---
Natural Building Workshop at Narara Ecovillage – Oct 2-6
Come and join the fun over the October long weekend at our natural building workshop, led by  Integrated Biotecture's Will Eastlake. Get down and dirty in the fresh air, and contribute your energy to a landmark building: Linda's hobbit-inspired art studio that's creating such a buzz (1st DA approved earthbag structure in NSW)! 
Learn about mud floors, wattle & daub and light straw wall-creation and rendering, alongside like-minded people who appreciate the magic, beauty and benefits of natural building.
Morning tea and a delicious vegetarian/vegan lunch is provided (let us know your dietary preferences).
There will be opportunities to tour the village and learn about other natural and sustainable dwellings
When: October 2-6 2020
Where: Narara Ecovillage 
Cost: Register for 5 days @$120 or for single days @$25 each. 
Accommodation: Camping is available at the ecovillage as well as other local accommodation options, by request.
Contact host Linda: naturalbuilding4u@gmail.com to register or for further information.
---
Do a Thing a Day
Identify a bird
Birds in Backyards has a very nifty & easy to use Bird Finder page that helps you identify birds in your neighbourhood. The finder brings up all the birds that fit your criteria, and then you can follow through to pages with more info about each bird.
The Birds in Backyards group also runs a number of regular citizen science surveys via Birdata that you can participate in. This page from Birdata tells you what you might spot this month.
---
From our network
Cohousing book & videos suggestion
Photo credit: Kylie Klein-Nixon
Cohousing For Life-A Practical and Personal story of Earthsong Eco-Neighbourhood – by Robin Allison
Earthsong is a 32-home cohousing neighbourhood in suburban Auckland.
"Robin's book is a great combination of personal story and practical details. Anyone interested in building cohousing or ecovillages will find useful specifics as well as inspiration. As we feel overwhelmed about climate change's impacts, it is a good reminder of what a small group of persistent ordinary people can do to make a difference." Kathryn (Katie) McCamant, Cohousing author, architect, and developer, Cohousing Solutions.
A couple of informative interviews with Robin:
---
Australian Plants Society Central Coast Online Plant Sales -to Oct 16
Sale continues to October 16