Sunday 26 November.
Open Day 10.30 to 12.30 pm.
Network speaker: New and Linda Sweeney "Sustainable Living in Suburbia and Solar Cookers".
1.30 to 2.30 PM
Nevin (Nev) and Linda Sweeney, authors of popular blog underthechokotree.com will be talking about "Living Sustainably in Suburbia" (and solar cookers), on Sunday 26 November, from 1.30 to 2.30 p.m.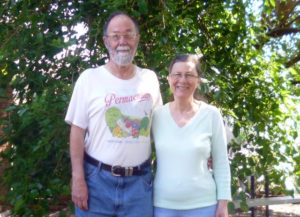 Nev says: We will be talking about who we are and what we do here at The Choko Tree. We'll describe the systems we use to grow our own food, produce our own energy and treat our wastewater, while giving you a virtual tour of our 600m2 permaculture paradise!
From fertilizer sausages to renovating a bug hotel, food preserving and cooking with the sun, Nev and Linda have been sharing their experiences with others for years. They are both members of Permaculture Sydney West and their home and garden was again part of the recent Sustainable House Day.
The Sweeneys have also appeared on Gardening Australia with Costa Georgiadis and continue to share their knowledge on their website www.underthechokotree.com/ and via their Facebook page: Under The Choko Tree.
Information.
This event will be held at the Narara Ecovillage, 25 Research Road, Narara, NSW 2250.
You do not need to register to attend the Open day or the Monthly Network talk. Cost to attend any part of the Open Day :individual $10, family $20 (Includes option to hear Monthly NELN Talk).
All parts of the Open Days are free to members of NELN and NEV, and those who have paid to attend the Open Day.
NB Membership of NELNallows you to attend all Open Days and Monthly NELN Talk for 12 months, and provides discounts on special workshops and tours. Annual membership costs individual $20, family $40. Join Now!